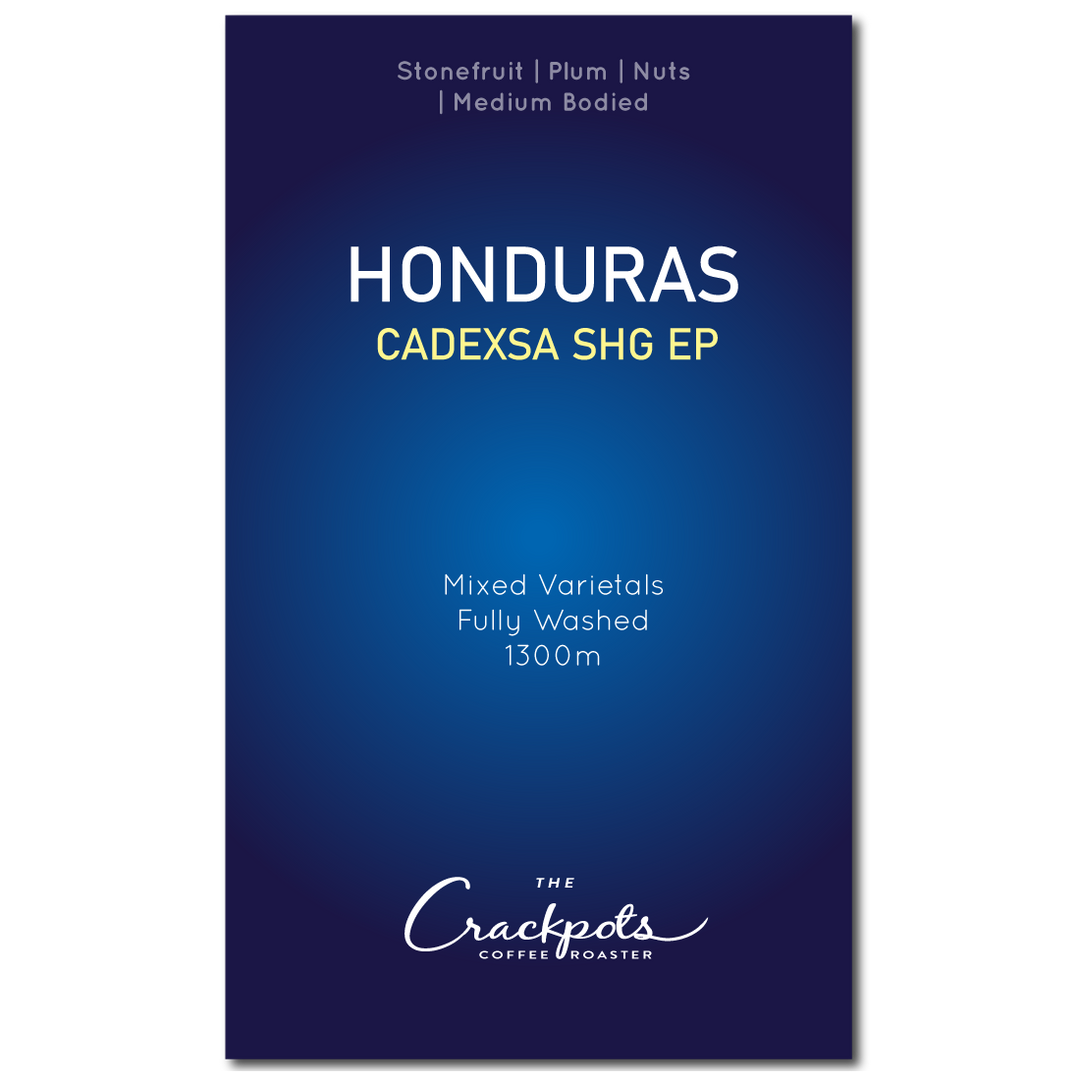 Honduras Cadexsa SHG EP
Regular price
RM40.00 MYR
/
Free shipping for orders above RM100 (Malaysian address only)
---
Tasting Note: Stonefruit (Guava) | Nuts | Plum | Medium Bodied
Processing Method: Washed
Growing Altitude: 1350m
Sourcing sustainable coffee beans has been one of the ultimate goals for specialty coffee roasters around the world in response to a global awakening of fair trade and social responsibility within the coffee community. We just don't feel good when someone is exploited while we enjoy the amazing cup of coffee they made possible with their hard work.
The Crackpots is more than happy to roast this Honduras SHG EP coffee from Cadexsa who gives back to the Honduran coffee producing families through the NGO called Bean of Life.
Through the efforts of the Cadexsa coffee company based in Marcala, partner farms and cooperatives received access to better healthcare and education over the years, as well as agricultural inputs and assistances like seedlings and equipment. On top of that, they have also gone the extra mile to deliver dental and medical care services to many Hondurans who typically lack access to basic infrastructure in the remote areas.
Props to Omar and his father, Hilario Acosta!
Notes on Coffee Grading
What is SHG EP anyway? Specialty coffee can be confusing, we understand. And we want to help. Different countries have different coffee grading systems developed over time to cope with each country's situation. For a country with varied altitude like Honduras, it is vital to grade coffees according to elevation:
SHG (Strictly High Grown): above 1350m above sea level
HG (High Grown): 1200-1350m above sea level
CS (Central Standard): ground to 1200m above sea level
On the other hand, EP is a short form of European Preparation – a coffee sorting standard to control the quality of the coffees by limiting the margin of defects to a high standard.
For a coffee to be EP qualified, the size of the beans must be above 15 screen size, with a maximum of 8 defects per 300g of coffees, leading to a very clean cup! As a contrasting reference, American Preparation allows 23 defects per 300g of coffees for washed arabicas (3 times the defects).
Grab delivery for addresses within 15km radius of our retail shop.
Standard courier delivery for Malaysian addresses.
International shipping partner is engaged for delivery outside Malaysia (rates vary).